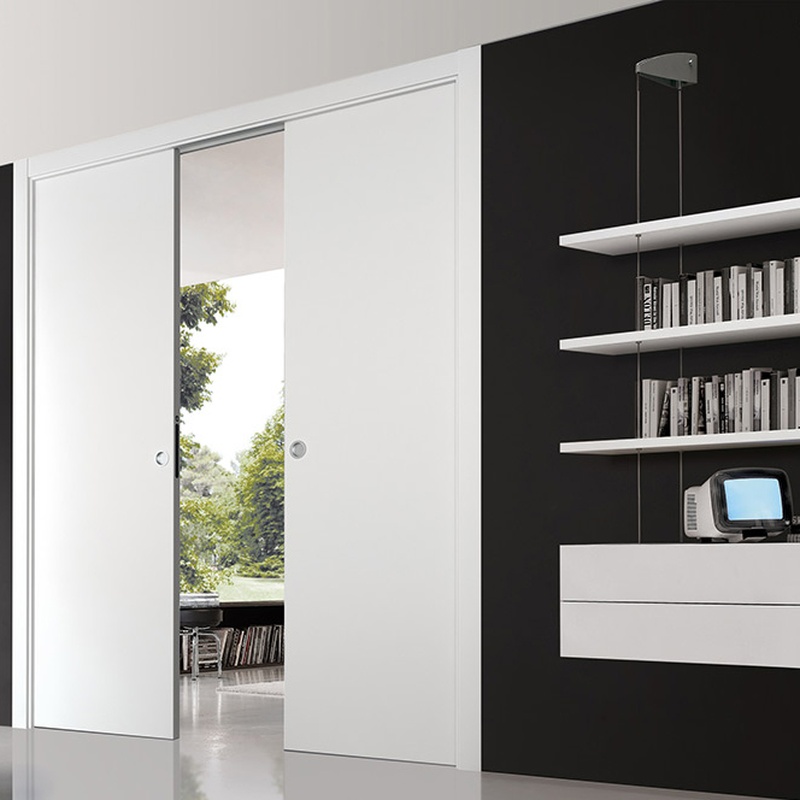 Ewoluto Double
Sliding pocket door system for double door that allows to hang loads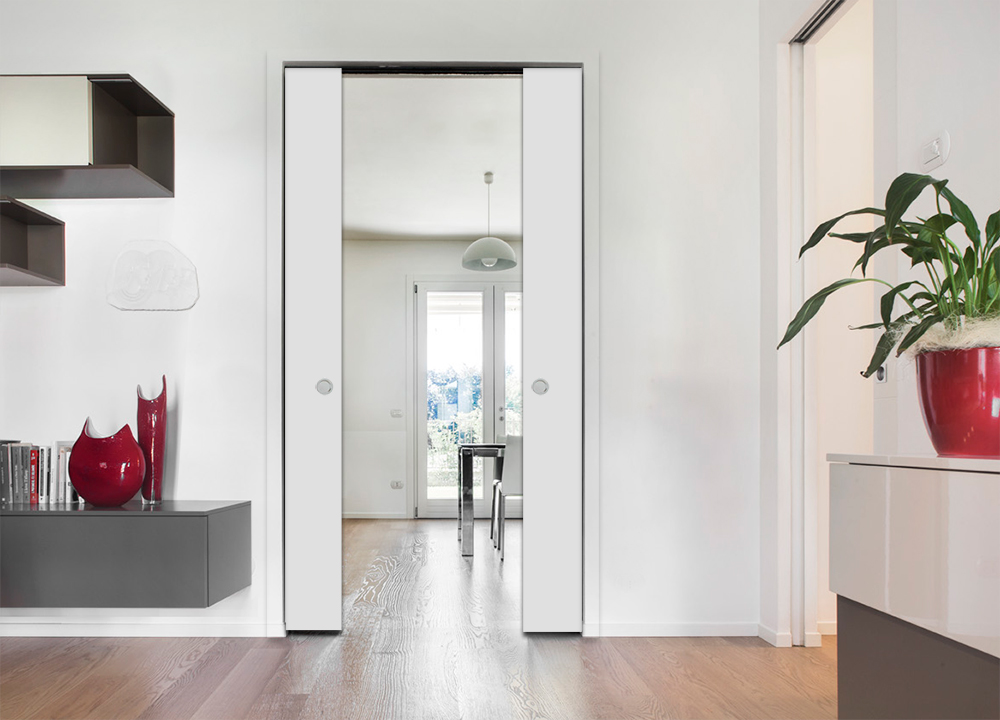 Welcome to the evolution of the space
The pocket door is there, but it behaves as a wall
ECLISSE Ewoluto Double is the counterframe that allows you to hang and fix shelves, cabinets, shower boxes on the portion of the wall where the door slides. In this double door version of the ECLISSE Ewoluto Single, both sides may be used as a real wall.
Equipped wall and sliding door? Now you can
Thanks to innovative projects, the ECLISSE Ewoluto Double model allows to have the convenience of two sliding doors with the functionality of a wall equipped on both sides.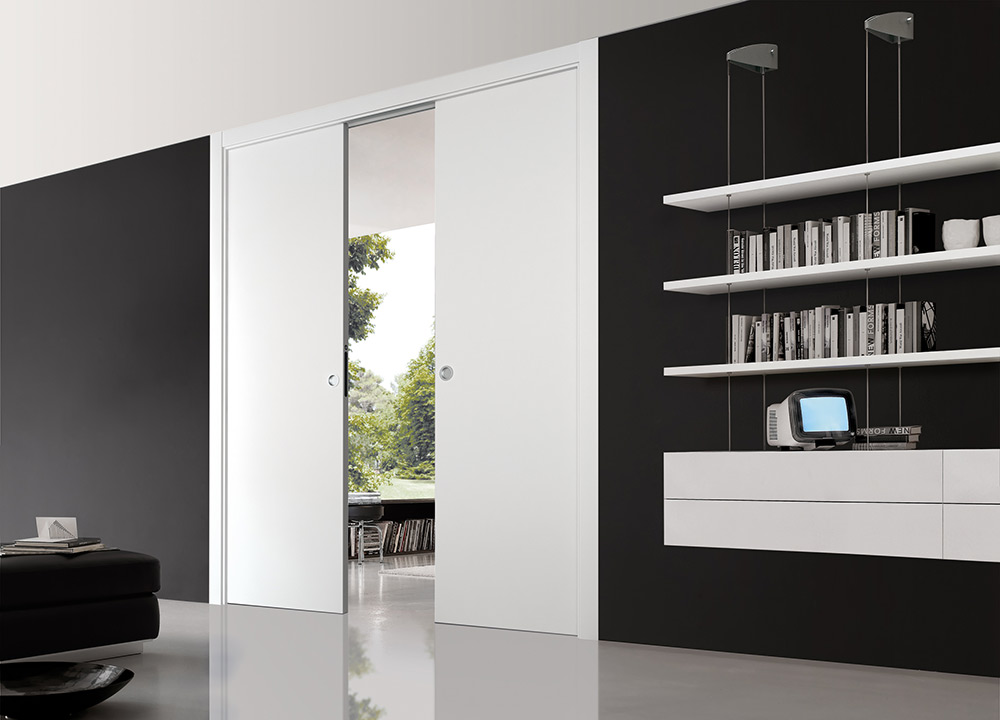 Why ECLISSE
Different systems for your business and for your needs.
Size Guide
A wide range of systems. Find your best pocket doors.
Purchase ECLISSE
Choose the best way to buy our products close to you.
What you should know
ECLISSE Ewoluto Double is supplied with passage size ranging from 1000 to 2400 mm in width and from 1000 to 2400 mm in height, only in the solid wall version.
ECLISSE conducted voluntary tests in collaboration with the CSI institution to determine with precision the performance of the vertical surfaces of the ECLISSE Ewoluto counterframe. The load capacity, that is usually between 30 and 360 kg, can vary according to the anchor points, the type of the dowels and the distance between the masonry wall and the end of the wall unit.
In particular, please note that the maximum load capacity of a handle fixed with chemical dowels (4 anchor points) is 100 kg at a distance of 600 mm from the wall.
See the Features section of ECLISSE Ewoluto Single for more details.
ECLISSE Ewoluto Double - SOLID WALL version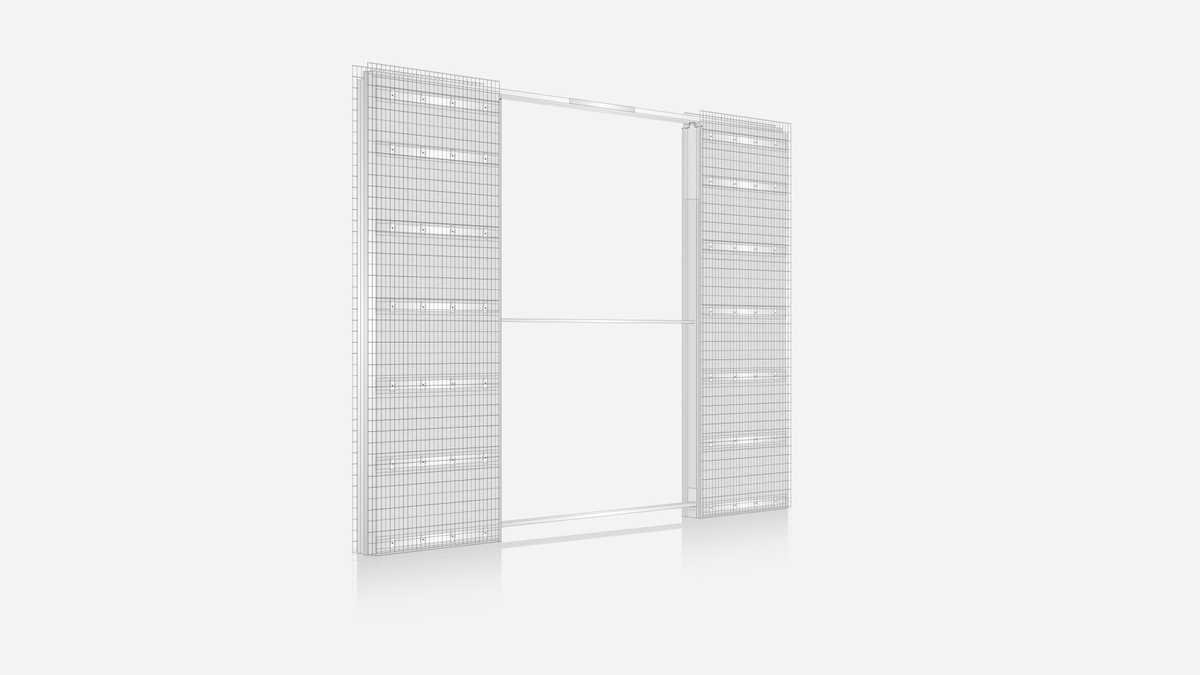 Ewoluto scorrevole Estensione
Intonaco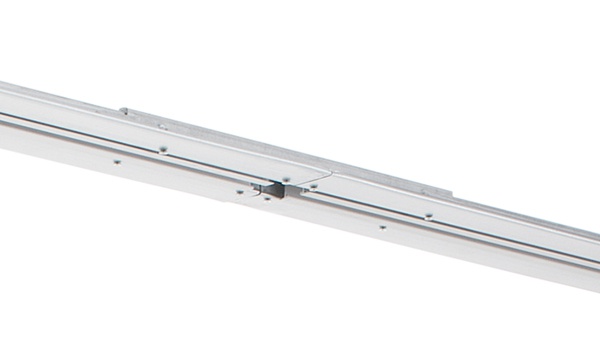 È un accessorio universale che permette di ottenere un controtelaio ad anta doppia utilizzandone due per anta singola.
Stopped embossed metal sheet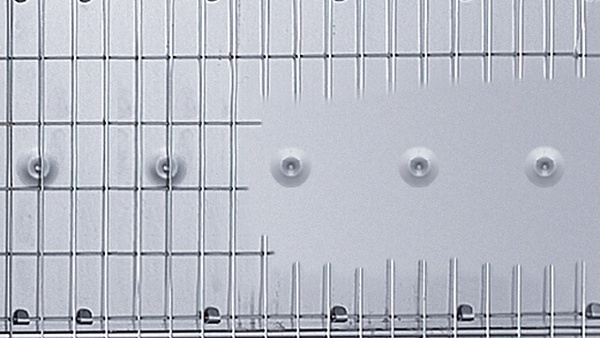 Thickness 0.7 mm. The bosses are reliefs that prevent any deformation in the sheet. They are a guarantee of great robustness and rigidity.
16 horizontal reinforcing bars
16 horizontal bars attached to the plasterholding mesh lends great resistance and rigidity to the counterframe, so that it can effectively counter the tension generated by brickwork and solid walls. Robustness is fundamental as the frame effectively replaces a portion of the wall. There are 32 bars with double leaf.
Protruding close plaster mesh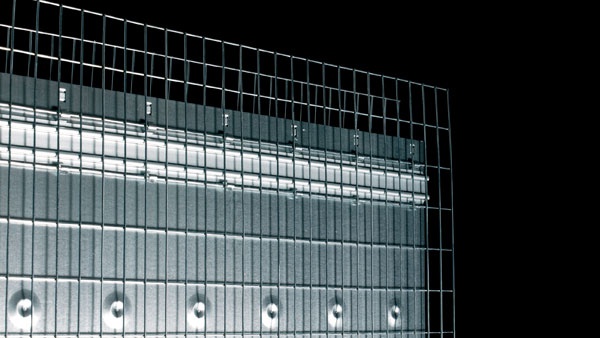 It joins the counterframe (50x25 mm) with the wall becoming an integral part of it, thus offering an increasing grasp of the laster. The finished wall won't have faults.
Alignment bar (patented) - solid wall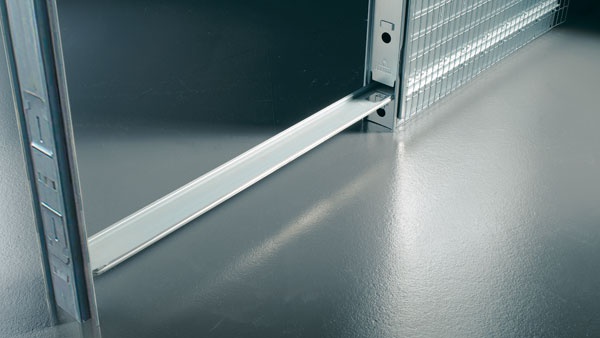 As it crosses the pocket door in all its width, it permits to solidly link the pocket with the stop jambs, thus making the assembly easier.
Vertical reinforced bars (solid wall version)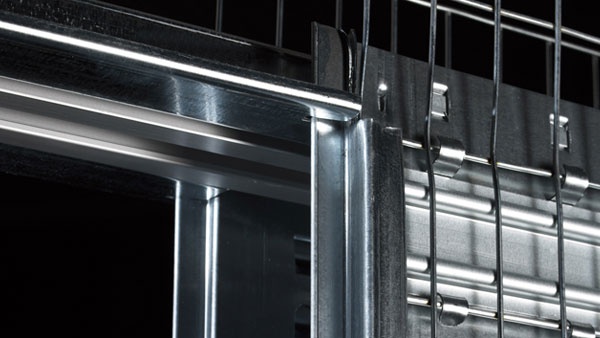 Made of doubled-up metal sheet, bent so that they form a single body with the solid wall. They ensure greater resistance in what would otherwise be a weak point in the counterframe where cracks in the plaster could begin to form, as it is the furthest point from the wall studs.