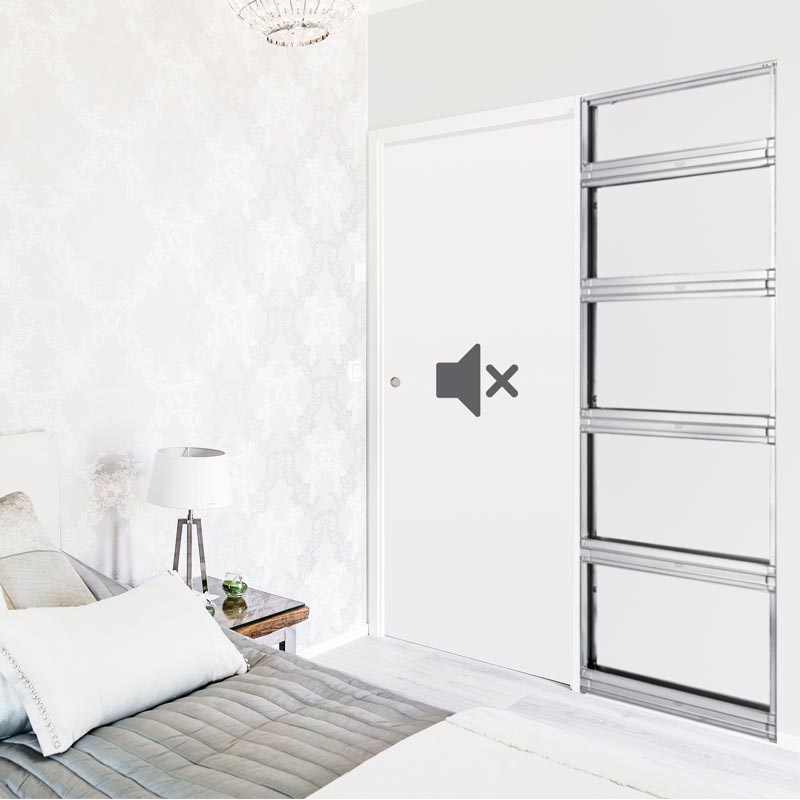 Acoustic
Soundproofing solution for sliding pocket door systems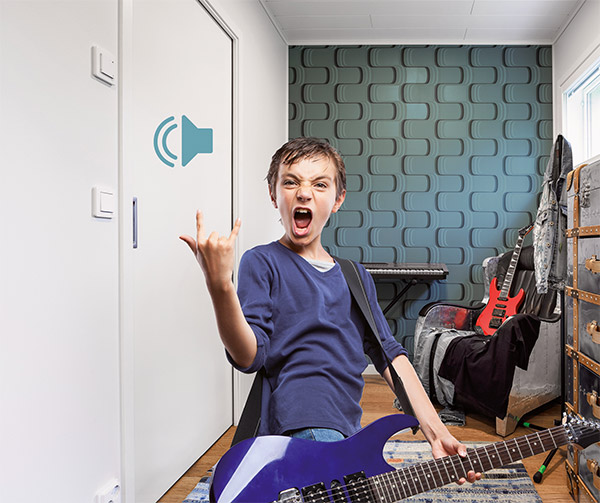 Silence has more space
Acoustic solution for pocket doors
Door, jambs and gaskets for sound insulation. The ECLISSE sliding pocket door system with high sound-proof performances reduces the noise through the rooms thanks to the activation of specific components that seal the entire door perimeter.
How does an acoustic pocket door work?
All components that allow the sound insulation have been specifically designed to limit unwanted noises.
Acoustic door panel: the special stratigraphy ensures high sound-proof performances; 40 mm thick, it is supplied as standard.

Acoustic jambs, already milled for the application of gaskets.

Gaskets and bumps: activated when the door is closed, they seal the vertical sides of the door hole, preventing the sound to pass through.

Magnets: they grant a perfect closing of the door, keeping it tight to the door post.

Weatherstrip: activated when the door is closed, they seal the upper and lower perimeter of the door.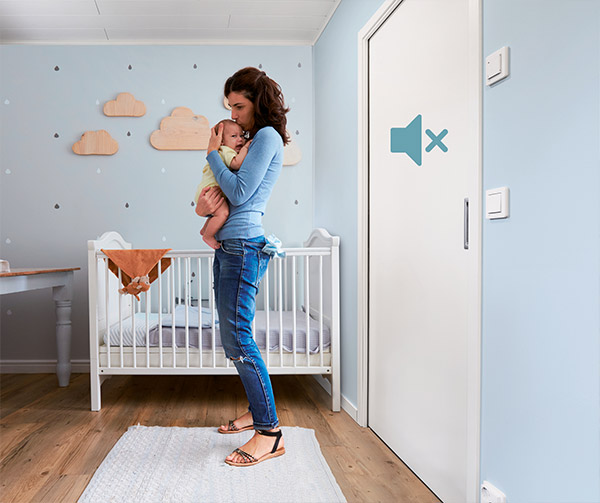 Watch the video and see how it works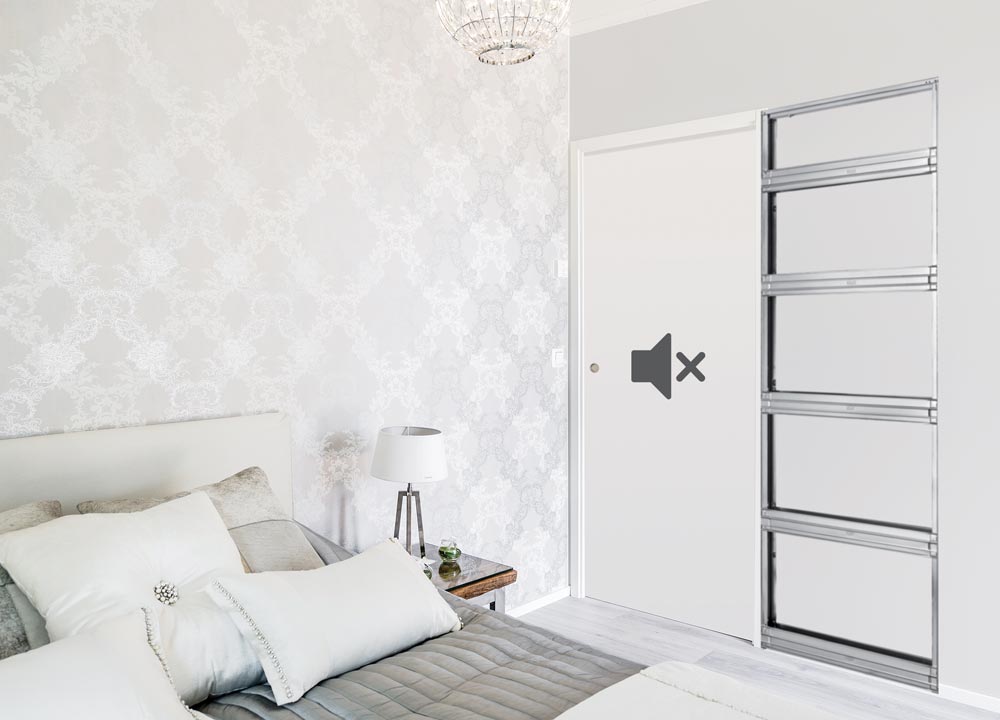 Available finishes
The acoustic sliding door panel can be supplied in raw Tanganyika walnut finish or lacquered in the RAL colours and combined with

sliding pocket door systems, even if already installed.
Why ECLISSE
Different systems for your business and for your needs.
Size Guide
A wide range of systems. Find your best pocket doors.
Purchase ECLISSE
Choose the best way to buy our products close to you.
Available versions
ECLISSE Acoustic door panel and jambs are available in raw walnut Tanganyika and in lacquered RAL colours.
According to the base model (ECLISSE Single, ECLISSE Luce Single or ECLISSE Ewoluto Single), finished wall thickness varies between 125 and 150 mm, both for solid and stud wall versions, with width from 600 to 1000 mm and height from 2000 to 2400 mm.
When applied, the acoustic kit reduces the clear passage size by 10 mm.
Strengths
ECLISSE Acoustic is born as an integrated system able to insulate two adjoining rooms by the noise, through the application of elements created ad hoc.
Bottom and upper weatherstrips, jambs and magnets work together to allow an acoustic absorption suitable for your needs.
To complete the sound-proofing of the doorway, a special multi-layer door panel in also supplied as standard, with a thickness of 40 mm and all the necessary milling for the installation of gaskets, bumps and the lock.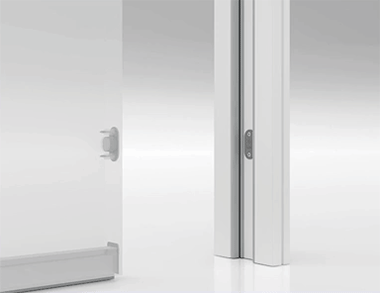 MAGNETS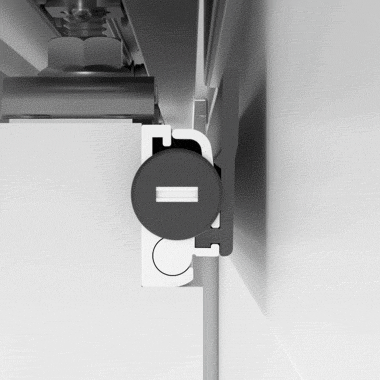 UPPER WEATHERSTRIP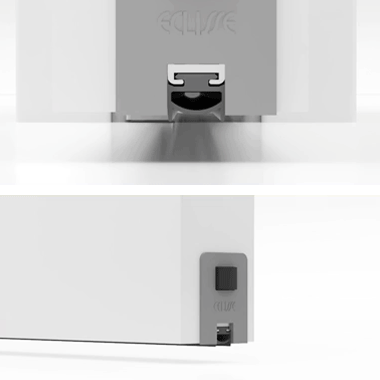 BOTTOM WEATHERSTRIP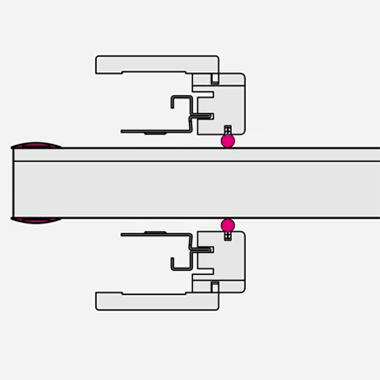 BUMPS
Norms
Noise abatement 38 dB (-1; -3).
Test performed on a 890x2030 mm frame, installed to perfection, equipped with blind shell lock.
UNI EN ISO 10140 - 2
Laboratory measurement of sound insulation in buildings and building elements - Part 2: Measurement of acoustic insulation by air.
UNI EN ISO 717 - 1
Evaluation of sound insulation in buildings and building elements - Part 1: Sound insulation by air.