40
The door frame inclined at an angle of 40 degrees
ECLISSE 40: the frame seen from a new perspective
An invisible and purely structural element until now, for the first time the frame becomes beauty and design, giving the door a significant presence and a unique expressive force.
A project that puts the frame at its core, turning it into an absolute protagonist able to redefine the final appearance of the door. Emerging from the wall, ECLISSE 40 outlines the volume of the threshold, creating a close connection between the two spaces it separates. A new archetype that allows to see the door from a new perspective, enhancing it as if it were inside a picture frame.
An unprecedented appearance that maintain on the other side the elegance and sobriety of a flush door. ECLISSE 40 is an absolute novelty in the market the brainchild of the two designers, Francesco Valentini and Lorenzo Ponzelli.
Want to know more about it?
Complete the form with your information to receive the brochure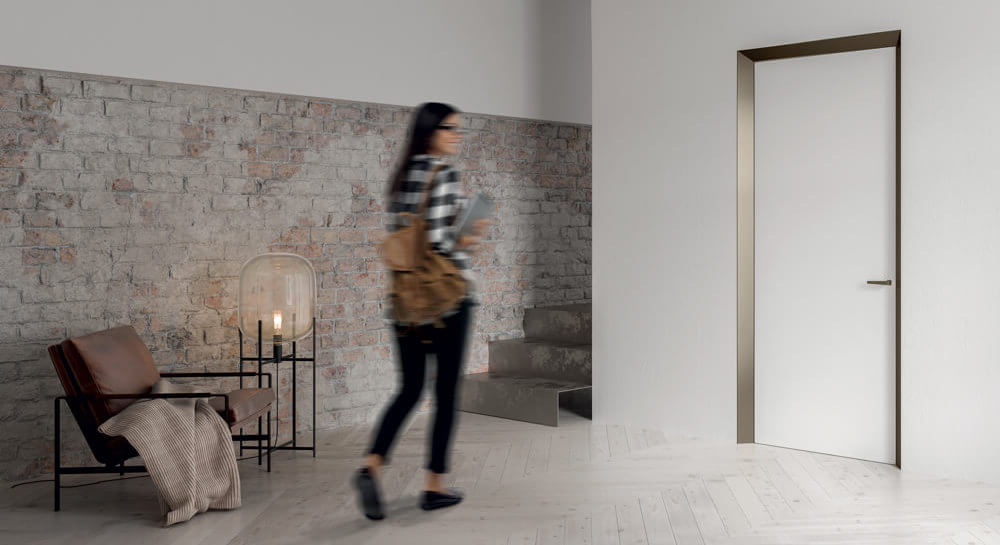 An innovation that rethink the frame as an element for design and no more just a technical and structural component.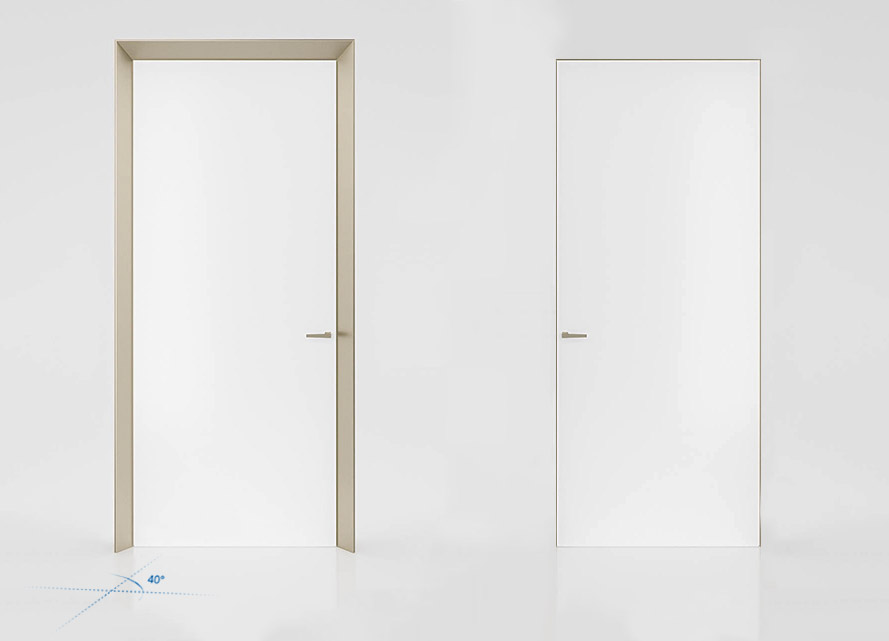 Splayed side vs flush side
40° inclination on one side
0 mm thickness on the other side
ON ONE SIDE, the inclined profiles of the frame outline a splayed door, almost tridimensional. A sense of depth with respect to the wall, defined by a 40-degree tilted surface. The structure empties the wall and enhances the room. Like a picture frame, it encloses the door and invites us to cross through it.
ON THE OTHER SIDE, the very same frame ensures the perfect planarity of a door flush with the wall that can be finished with paint or wallpaper, just as the surrounding wall. Elegance and discretion.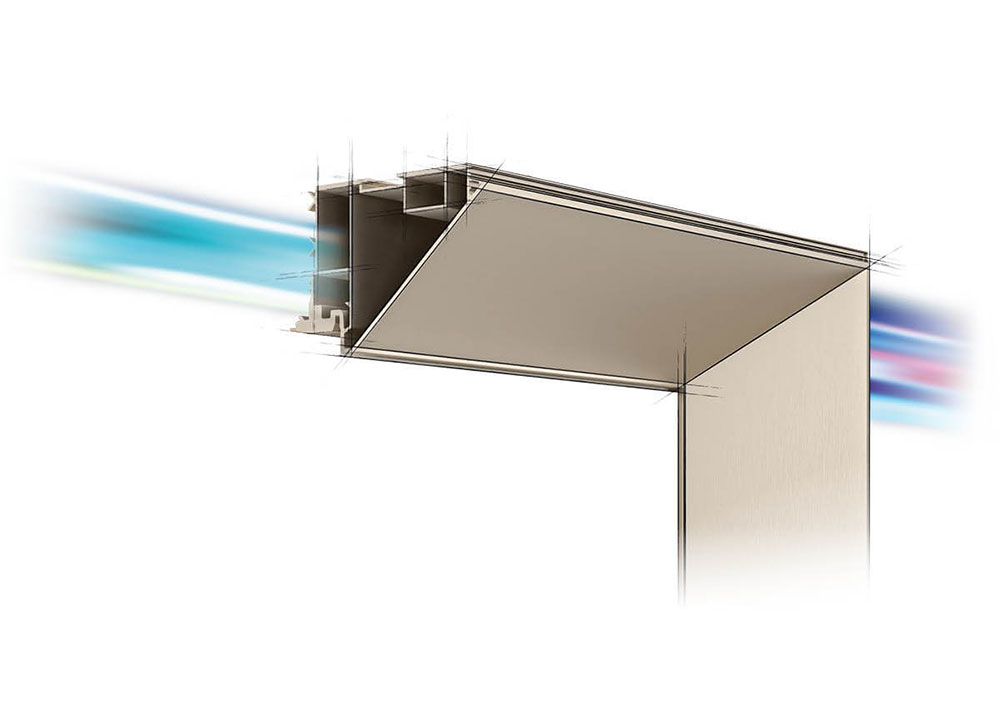 The aluminium profile sets the 40 degrees incline. A single structure for both masonry and plasterboard walls.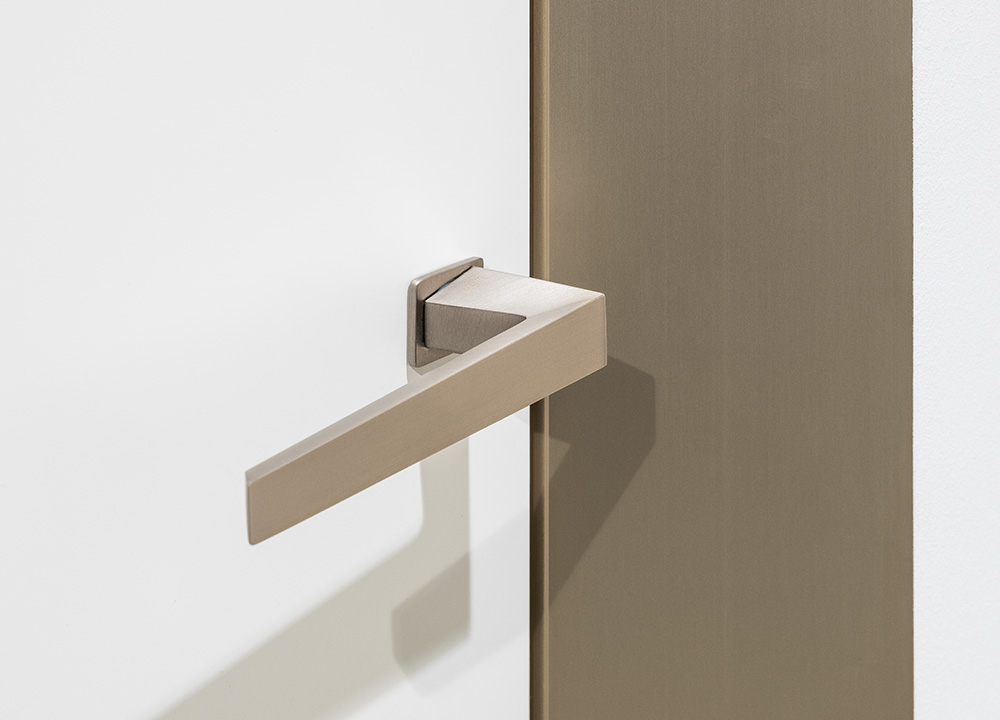 Developed by the same designers and inspired by the tilted surfaces of ECLISSE 40, 40+one is the perfect handle to complement the frame.
Total customisation
ECLISSE 40 in its primer version allows you to create homogeneous environments without any stylistic interruption. In fact, the frame can be painted or covered with wallpaper, integrating completely with the surrounding space.
Its neutrality allows you to give free rein to your imagination in designing the most original solutions, as well as creating minimal and essential spaces.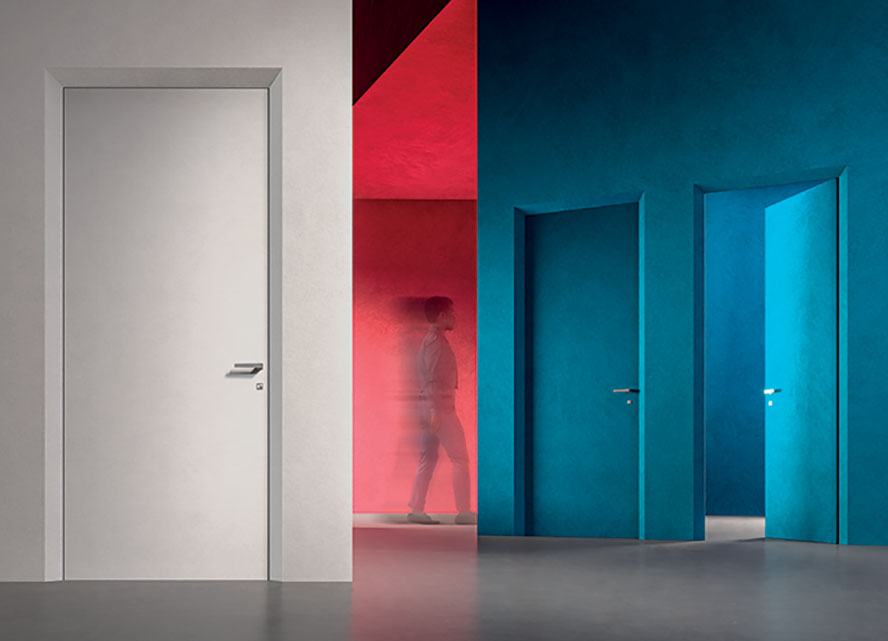 Awards and recognitions:

ECLISSE 40 Collection qualified in the Longlist of the coveted Archiproducts Design Award 2019, dedicated to the world of design and architecture.

The Red Dot Design Award is one of the most important and prestigious design competition worldwide and ECLISSE 40 Collection received the award in the Product Design 2020 category.

ECLISSE 40 Collection has been selected to be listed in the world-renowned ADI Design Index 2020.
Why ECLISSE
Different systems for your business and for your needs.
Size Guide
A wide range of systems. Find your best pocket doors.
Purchase ECLISSE
Choose the best way to buy our products close to you.