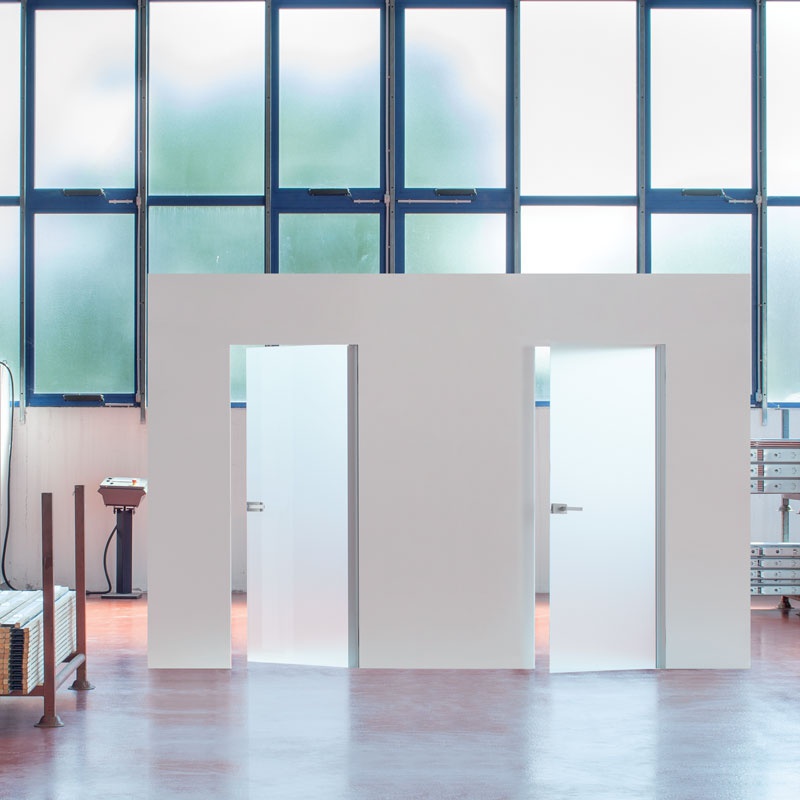 Syntesis® Battente Glass
Door frame for hinged glass door flush with the wall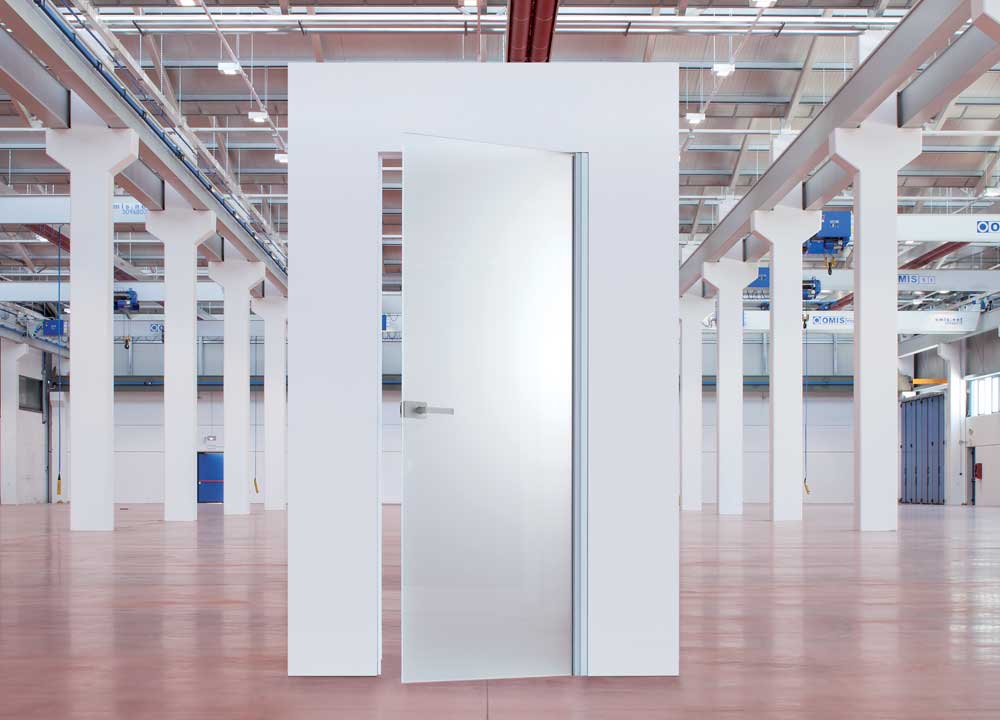 Elegant and impressive
The purity of the glass and the absence of jambs are the fundamental elements of ECLISSE Syntesis® Battente Glass, a design door that decorates and separates the rooms lightly and without cluttering.
The single glass panel is installed on a vertical anodized aluminum trim, while the hinges, completely hidden, ensure stability even in the case of particular heavy oversized doors.
Dedicated door frame
The door frame of ECLISSE Syntesis® Battente Glass has been specifically designed to install an all-glass hinged door.
The exclusive design, like all ECLISSE Syntesis® Collection products, doesn't require the application of architraves and jambs, so that to ensures the perfect integration of the door with the wall, to create continuous surface with great visual and aesthetic impact.
The profiles of the frame are made of anodized aluminium to prevent oxidation and coated with primer to ensure the perfect adhesion of the paintings.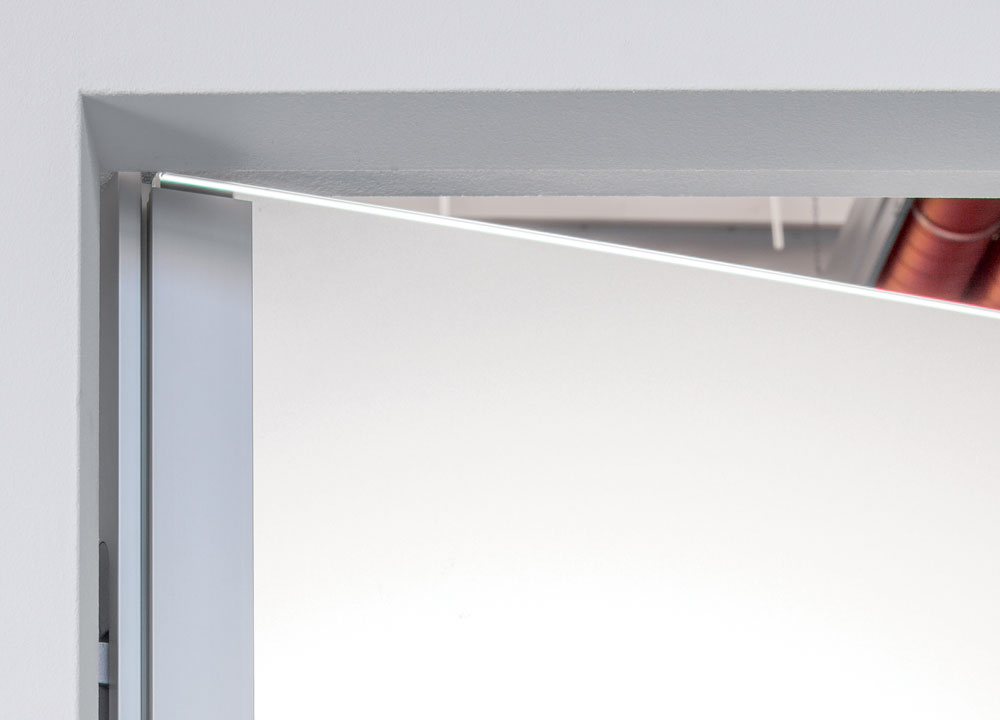 Finishes
ECLISSE Syntesis® Battente Glass is supplied with 8 mm thick door panels, available in several versions.
All the glass variants are certified in accordance with the norms UNI 12150 and UNI 7697.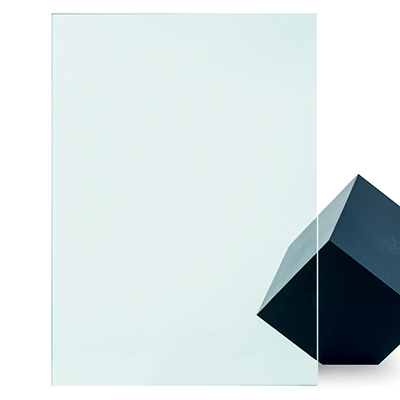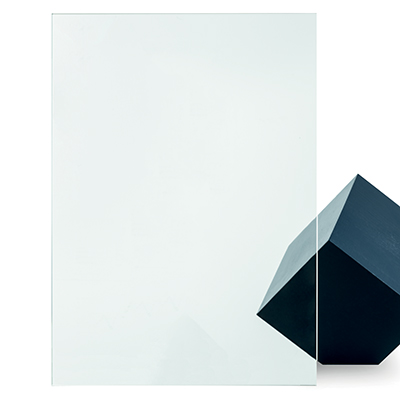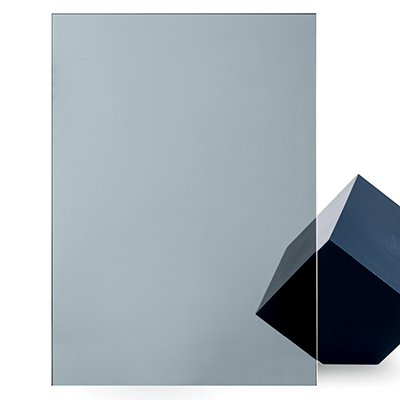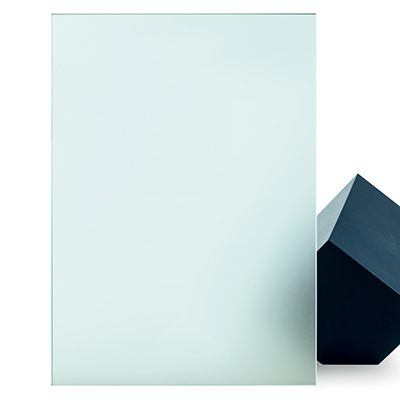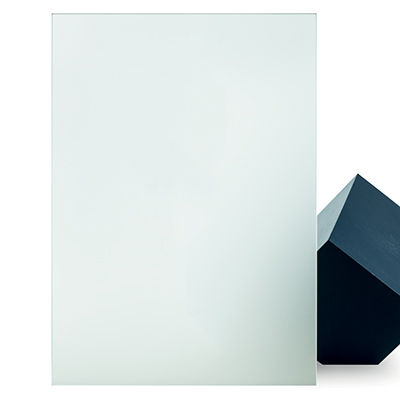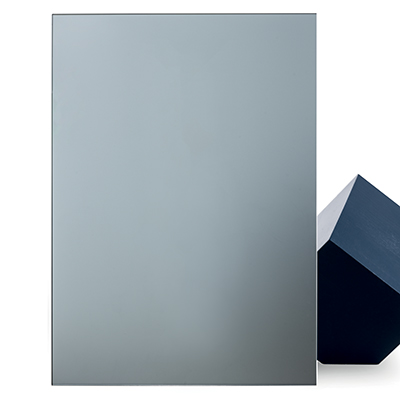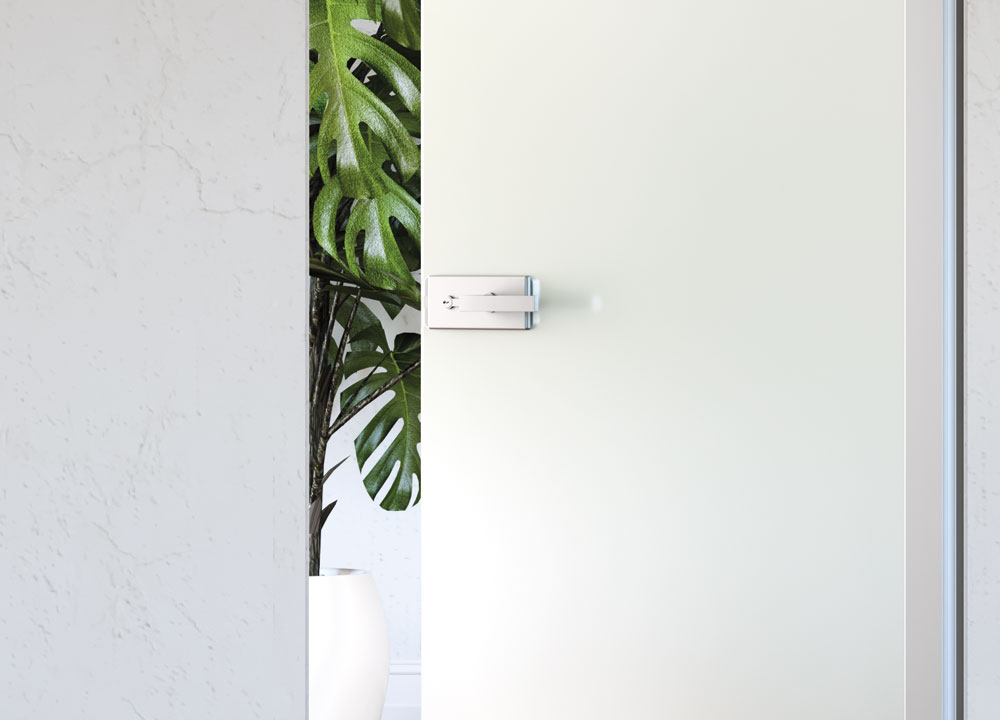 Why should you choose a glass door?
A glass door represents a very interesting solution for the furnishing of living and work spaces.
The use of glass as an architectural material is growing thanks to the advantage of furnishing elegantly and discreetly. The versatility of glass makes it easily integrated into different design contexts.
The glass lets the light filter through the rooms and gives an enlarged perception of the spaces for living comfort.
More custumisation
Would you like to take advantage of all the qualities of glass and get a coordinated appearance in every access of your home?
Through dedicated accessories it is possible to install a glass panel to sliding pocket door systems like ECLISSE Syntesis® Line and combine it with ECLISSE Syntesis® Battente Glass. This way you can achieve an exclusive result.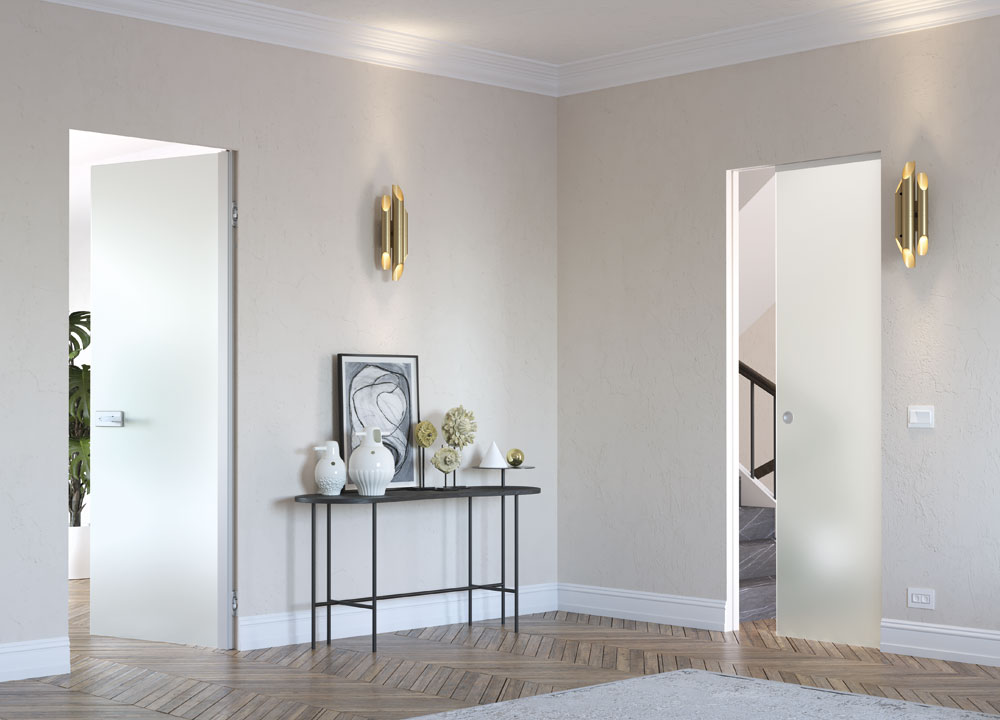 Why ECLISSE
Different systems for your business and for your needs.
Size Guide
A wide range of systems. Find your best pocket doors.
Purchase ECLISSE
Choose the best way to buy our products close to you.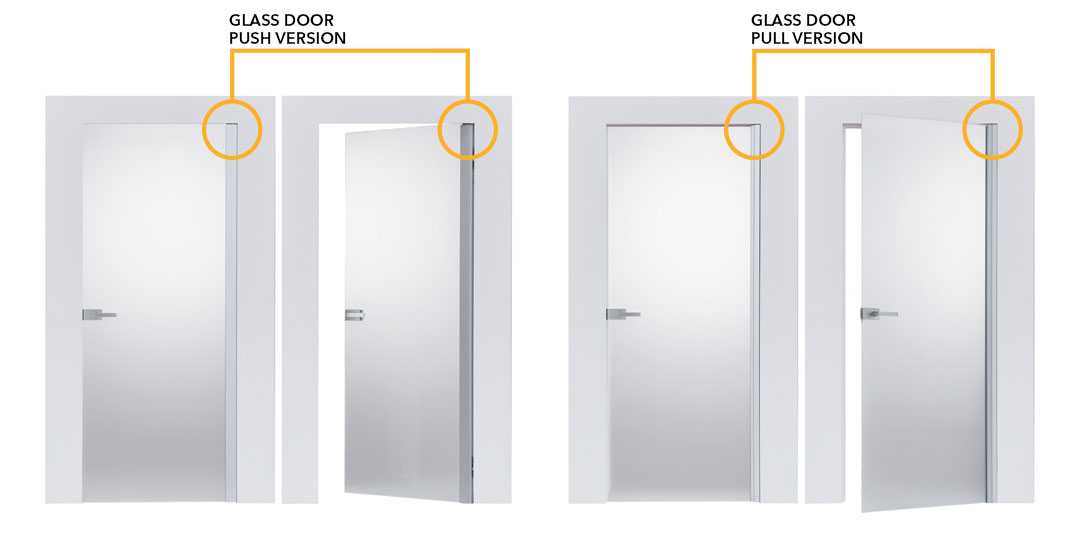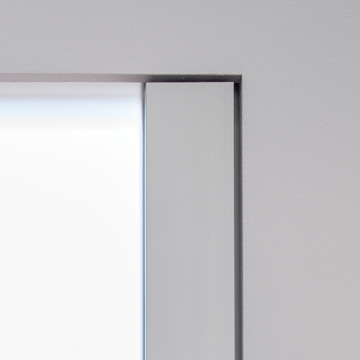 Closed glass panel
PUSH VERSION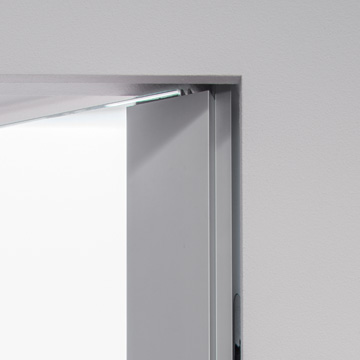 Open glass panel
PUSH VERSION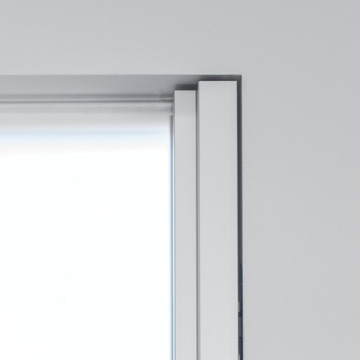 Closed glass panel
PULL VERSION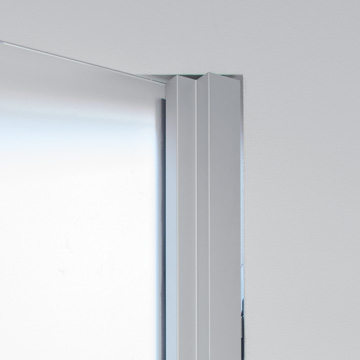 Open glass panel
PULL VERSION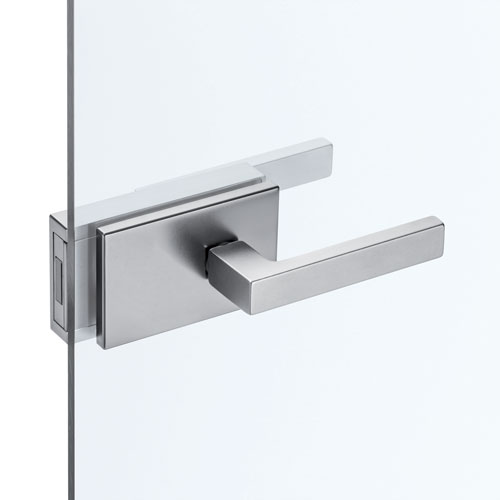 MAGNETIC LOCK
(handles not included)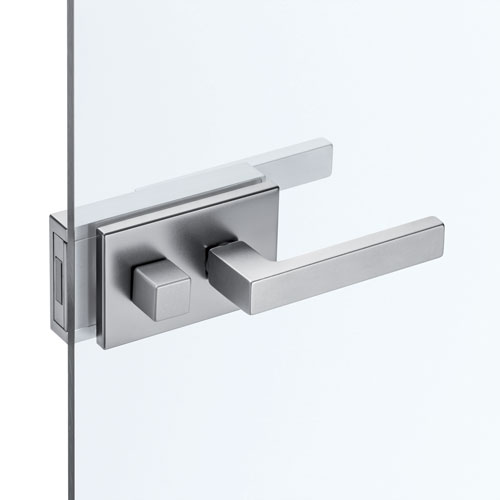 WITH THUMB TURN
(handles not included)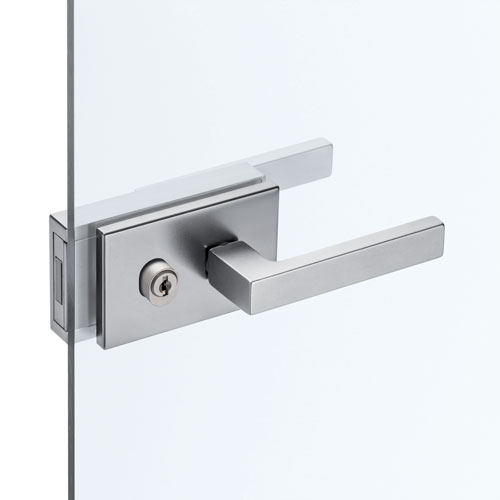 FITTED FOR CYLINDER
(handles not included)
(cylinder not included)